Regular price
Sale price
€87,00 EUR
Unit price
per
Sale
Sold out
Pagal Ekseption tiekėjo reikalavimus, prekes įsigyti galima tik registruotiems vartotojams
Pristatymas LpExpress paštomatu Lietuvoje 2.15 €

Pristatymas per 2 - 5 d.d.

Nemokamas siuntimas nuo 60 €
Exception SQUALANE RETINOL - active serum of 20% vegan squalane and 0.3% retinol is designed to reduce wrinkles, pigmentation, signs of photoaging and to nourish the skin, or to make the serum more individual, it can be mixed with other serums from the Mix lab line.
Impact:
• skin lifting
• reduction of fine wrinkles
• reducing the amount of free radicals
• works against photoaging
• reduction of pigmentation
• skin nutrition.

Main ingredients: 20% squalene, 0.3% retinol.

Method of use: apply the serum on clean skin twice a day - in the morning and in the evening. When the serum is completely absorbed, use a regular cream. SPF protection is recommended during the day.
Capacity 75ml.
---
Vegan squalane is a fantastic humectant so it hydrates well and penetrates well into the skin. Squalene is not a stable ingredient and can be heavy and pore clogging. Squalane contains hydrogen, which makes it lighter and less pore-clogging. Olive Squalane is a clear, odorless, natural emollient that helps smooth skin and retain moisture. Olive squalane is very light and easily absorbed into the skin. Its easy absorption makes it an excellent carrier for other ingredients such as retinol.
Retinol ideal for wrinkles and sun damaged skin. The retinol in the serum is stabilized due to the 100% oil composition to maintain the product's effectiveness over time. This formula uses the purest and most active form of retinol.
Mixlab's serum formula is one of the most natural and skin-friendly you can find on the market, as it contains only active ingredients.
The formula is oil-based, which immediately emulsifies with hyaluronic acid-based serums to form an oil-in-water micro-emulsion, so the consistency is smooth and non-greasy.
Composition

Diisopropyl adipate, Squalane, PEG-40 sorbitan peroleate, Retinol, Tocopheryl acetate, Polysorbate 20, BHT, BHA.
Due to possible product composition updates, the named composition may differ from that shown on the package.
Dispatch time

The item will be shipped within 1-2 days
Dalintis
View full details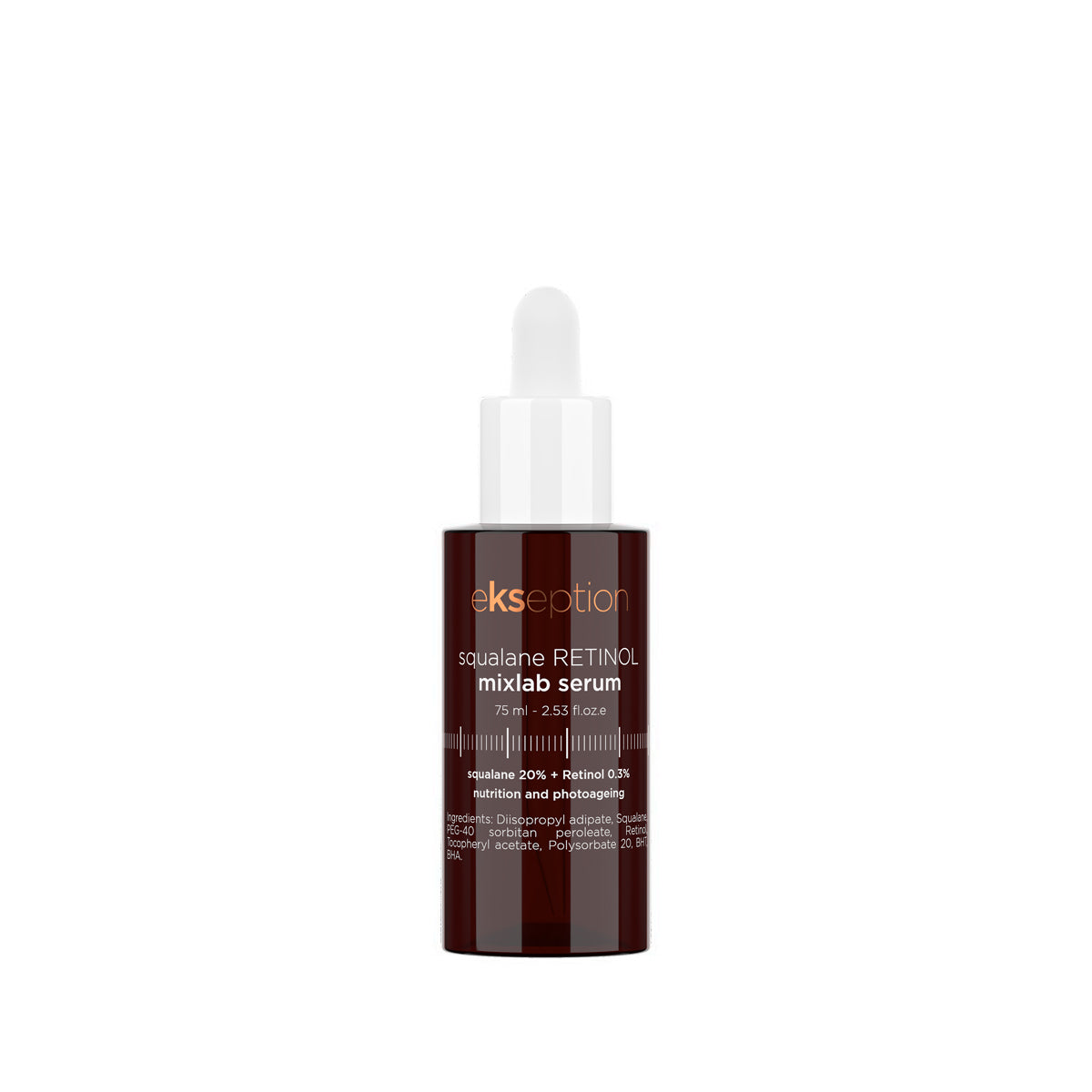 Fast delivery

You will find the shipping time for each product.

Attention to the customer

We respond quickly to your inquiries and usually respond within the hour, even outside of business hours.

Customer reviews

Our goal is to QUICKLY and EFFICIENTLY help you find the most suitable skin care products for you.