Pagal Natinuel tiekėjo reikalavimus, prekes įsigyti galima tik registruotiems vartotojams
Pristatymas LpExpress paštomatu Lietuvoje 2.15 €

Pristatymas per 2 - 5 d.d.

Nemokamas siuntimas nuo 60 €
Natinuel eye cream THE LOOK tightens and nourishes the sensitive skin under the eyes and toning cream ULTRATON, which provides elasticity, protects against the formation of wrinkles, and regenerates tissues.
Both products are recommended for mature skin or for wrinkle prevention.
Impact:
- The eye cream protects against the formation of wrinkles, helps to reduce unsightly eye bags, puffiness, improves the color of the skin under the eyes, so it is perfect for use when dealing with darkened eyes.
- The toning cream increases the elasticity, firmness and density of the skin, using this cream the skin regains its beautiful color and appearance. The composition of the cream includes peptides and biologically active substances that contribute to protection against the formation of wrinkles and help to regenerate tissues. The texture of the cream is extremely pleasant and light.
Method of use: eye cream use 2 times a day on cleansed skin around the eyes (except the upper eyelid), spread gently until absorbed. Swelling in the lower eye area may occur after the first use. Apply a small amount of the face cream on clean face skin, spread gently until the cream is fully absorbed, use the face cream 1-2 times a day.
Capacity: eye serum 15 ml and cream 50 ml.
Composition

Ultraton: AQUA, Ethylhexyl METHOCYNNAMATE, CAPRYLIC / Capric Triglyceride, GLYCERINE, ACACIA decurrens / JOJOBA SUNFLOWERS SEED, WAX / Polyc, COCOGLYCERIDES, octocrylene, Ceteth-2, BUTYL Methoxydibenzoylmethane, HYDRIGENATED POLYDECENE, DEOPNTYL GLYCOL DIHEPTANOATE, Ceteareth-25, Cetyl Alcohol, POLYMETHYLSILSEQUIOXANE, DIMETHICONE, SODIUM POLYACRYLATE, HDI / TRIMETHYLOL HEXYLLACTONE CROSSPOLYMER, CAPRYLYL GLYCOL, TOCOPHERYL ACETATE, 1,2-HEXANDIOL, LAURYL ALCOHOL, BUTYLENE GLYCOL, THOXYLLACTONE-CYLINDER, ALCODI-ALCOCTIC ACID PARETH-3, TEPRENONE, CARNOSINE, PHENOXYETHANOL, G LYCERYL OLEATE, CARBOMER, C12-15 PARETH-3 PHOSPHATE, CETEARYL ALCOHOL, POLYSORBATE 20, TROPOLONE, LAURETH-7, BHT, HEXYLENE OLEATE, BHT, HEXYLENE OLEATE, GLYCOL OLEATE, TRIPEPTIDE-10 CITRULLINE.
The Look: AQUA (Water), Glycerin, C13-15alkane, NEOPentylglycoldiethylxanoate, Peg-8dimethicone, C12-15Alkylbenzoate, Polyacrylaramid, Sodiumpolyacrylate, C13-14isoparaffin, Tiisostearin, ARYLALCOHOL, PARFUM (FRIGRANCE), Dimethicone, Ceteareth-25 . -3, C12-15PARETH-3PHOSPHATE, PALMITOYLTRIPEPTIDE-5, HESPERYCYCIDE-NONE BUTYLENEGLYCOL, ACETYLHEXAPEPTIDE-30, POTASSIUMSORBATE, ACETYLHEXAPEPTIDE-8, DIPEPTIDE-2, CHRYSIN, PALMITOYLTRIPEPTIDE-1, PALMITOYLTREPEPTIDE-7, DIPEPTIDE-4, DISODIUMEDTA, PHENOX ETHANOL, CAPRYLYLGLYCOL, BENZOICACID, Dehydroacetic Acid, Chlorhexidine Digluconate, Ethylhexylglycerin.
Due to possible product composition updates, the named composition may differ from that shown on the package.
Dispatch time

The item will be shipped within 1-2 days
Dalintis
View full details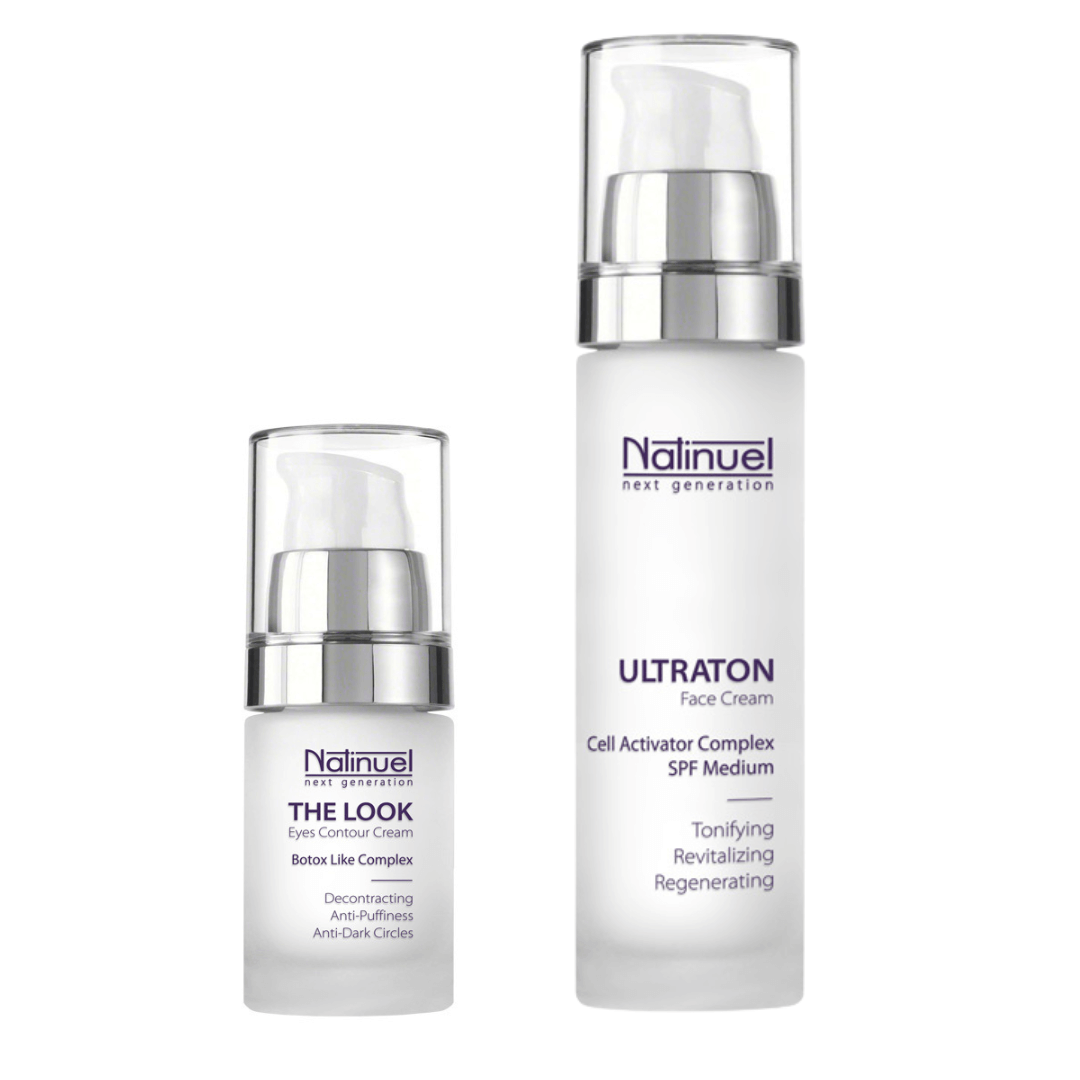 Fast delivery

You will find the shipping time for each product.

Attention to the customer

We respond quickly to your inquiries and usually respond within the hour, even outside of business hours.

Customer reviews

Our goal is to QUICKLY and EFFICIENTLY help you find the most suitable skin care products for you.