Pagal Natinuel tiekėjo reikalavimus, prekes įsigyti galima tik registruotiems vartotojams
Pristatymas LpExpress paštomatu Lietuvoje 2.15 €

Pristatymas per 2 - 5 d.d.

Nemokamas siuntimas nuo 60 €
Natinuel facial skin care products for sensitive, problematic skin. The set includes a 5% acidic cleanser and HOMEO-GEN cream.
CLEANSER PHAs - AHA 5% – is a special, non-irritating emulsion for cleaning dry and sensitive skin. Gentle surfactants, combining with specific PHA, AHA acids and active biological substances, remove pollution without harming the hydrolipidic cover, which is the main element responsible for the maintenance and functionality of healthy skin.
Impact: after washing off the emulsion, there is a feeling of freshness, the skin becomes soft and clean and ideally prepared for the use of the next NATINUEL product.
Main ingredients: lactabionic acid, gluconolactone, malic acid, restorative complex, almond oil, avocado oil.

Method of use: apply a small amount of emulsion on moistened facial skin and massage with light movements for 1-2 minutes. Then rinse thoroughly with lukewarm water.
Capacity 150 ml.
HOMEO - GEN – moisturizing, couperose-reducing cream for sensitive skin. Thanks to the synergistic effect of specific active substances, skin normalization is promoted.
Impact: provides maximum protection against harmful environmental factors that increase their fragility. The skin is protected from the appearance of new redness, the skin is given a smooth and harmonious shade. The cream soothes sensitive, irritated skin and protects it, ensuring optimal skin moisture balance.
Main ingredients: ceramide ho 3, phosphatidylcholine, resveratrol, Calma complex, SPF Medium.
Method of use: apply a small amount of cream on clean facial skin, gently massage until absorbed. Use 1-2 times a day.
Capacity 50 ml.
Composition

Cleanser: AQUA (WATER), HYDROGENATED POLYISOBUTENE, MALIC ACID, STEARETH-2, STEARETH-21, LACTOBIONIC ACID, SODIUM HYDROXIDE, CETEARYL ALCOHOL, PERSEA GRATITSIMA (AVOCADO) OIL, PRUNUS AMYGDALUS SWEET ALUSET DULCIS OIL, CHAMOMILLA RECUTITA (MATRICARIA) FLOWER. EXTRACT, POLYACRYLATE CROSSPOLYMER-6, POLYSORBATE 20, PARFUM (FRAGRANCE), GLYCERIN, TOCOPHERYL ACETATE, RETINYL PALMITATE, t-BUTYL ALCOHOL, BENZHERYLITO LECCO POTASSIUM SORBATE, DISODIUM EDTA, CHLORPHENESIN, PHENOXYETHANOL, ETHYLHEXYLGLYCERIN, BENZYL SALICYLATE.
Homeo-gen: AQUA (WATER), CAPRYLIC / CAPRICTRIGLYCERIDE, GLYCERIN, DIMETHICONE, HYDROGENATEDPOLYISOBUTENE, BUTYROSPERMUMPARKII (SHEA) BUTTER, ETHYLHEXYLMETHOXYCINNAMATE, CETYLALCOHOL, GLYCERYLSTEARATESE, THERMUSTHERMOPHILLUSFERMENT, CERAALBA (BEESWAX), BUTYLENEGLYCOL, BUTYLMETHOXYDIBENZOYLMETHANE, PEG- 40 STEARATE, polyacrylamide, GLYCERYL POLYMETHACRYLATE, BEHENYLALCOHOL, C13 through 14ISOPARAFFIN, rESVERATROL, ALEURITICACID, YEASTEXTRACT, PARFUM (FRAGRANCE), LAURETH-3, glycoproteins, CHONDRUSCRISPUS (carrageenan), LAURETH-7, XANTHANGUM, CERAMIDENP, BIOTIN, GLUCOSE, ACETYLDIPEPTIDE-1CETYLESTER, LACTICACID, CAPRYLYLGLYCOL, Hydroxyethylcellulose, phosphatidylcholine, SODIUMLACTATE, ETHYLHEXYLGLYCERIN, DISODIUMPHOSPHATE, PHYTOSPHINGOSINE, LACTISLIPIDA (MILKLIPIDS), PHENOXYETHANOL, CHLORHEXIDINEDIGLUCONATE, BHT, TOCOPHERYLACETATE, DISODIUM EDTA, DEHYLDROACETATE.
Due to possible product composition updates, the named composition may differ from that shown on the package.
Dispatch time

The item will be shipped within 1-2 days
Dalintis
View full details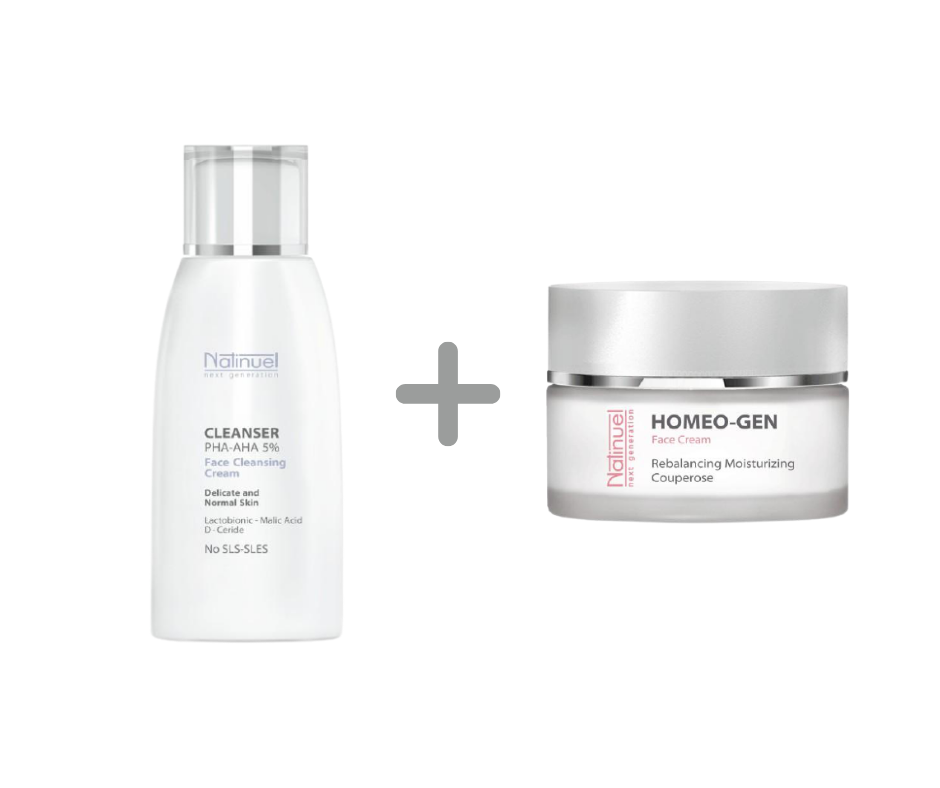 Fast delivery

You will find the shipping time for each product.

Attention to the customer

We respond quickly to your inquiries and usually respond within the hour, even outside of business hours.

Customer reviews

Our goal is to QUICKLY and EFFICIENTLY help you find the most suitable skin care products for you.