Regular price
€116,00 EUR
Regular price
Sale price
€116,00 EUR
Unit price
per
Sale
Sold out
Pristatymas LpExpress paštomatu Lietuvoje 2.15 €

Pristatymas per 2 - 5 d.d.

Nemokamas siuntimas nuo 60 €
OBAGI Professional-C 15% koncentracijos vitamino C serumas. Šis serumas pasižymi antioksidacinėmis savybėmis, kovoja su laisvaisiais radikalais, šviesina odą, mažina smulkias raukšleles ir gerina bendrą odos kokybę.  
Poveikis:
L-askorbo rūgštis (vitaminas C) apsaugo nuo žalingo aplinkos poveikio

Mažina smulkias raukšleles

Jaunina odą, gerina jos kokybę ir lygina odos toną
Bėgant metams, odos kokybė ženkliai prastėja - sensta, atsiranda raukšlės. Yra įrodyta, kad L-Askorbo rūgštis padeda sumažinti raukšles.
OBAGI Professional-C serumas yra rekomenduojamas normaliai ir mišriai veido odai.
 Pagrindiniai ingredientai:
L-askorbo rūgštis 15% ž

inoma kaip pati stipriausia vitamino C forma. Neutralizuoja laisvuosius radikalus, mažina raukšleles, šviesina odos toną

.
Naudojimo būdas:
Pirštų galiukais užtepkite 5-7 lašus Obagi Professional-C serumo ant veido, kaklo ir dekoltė

Tepkite ant švarios odos rytais, prieš saulės apsaugos priemones ir makiažą
Atsargumo priemonės:
Tik išoriniam naudojimui

Pradėjus naudoti, gali lengvai dilgčioti, vėliau oda pripras ir nebedilgčios

Jei dilgčioja stipriai, nebenaudokite, pasitarkite su gydytoju/kosmetologu
Talpa 30ml
Composition

Propilenglikolis, vanduo (aqua), L-askorbo rūgštis, alkoholis, askorbilo gliukoidas, kvapiosios medžiagos
Dispatch time

Prekė bus išsiųsta per 2-3 d.d.
Dalintis
View full details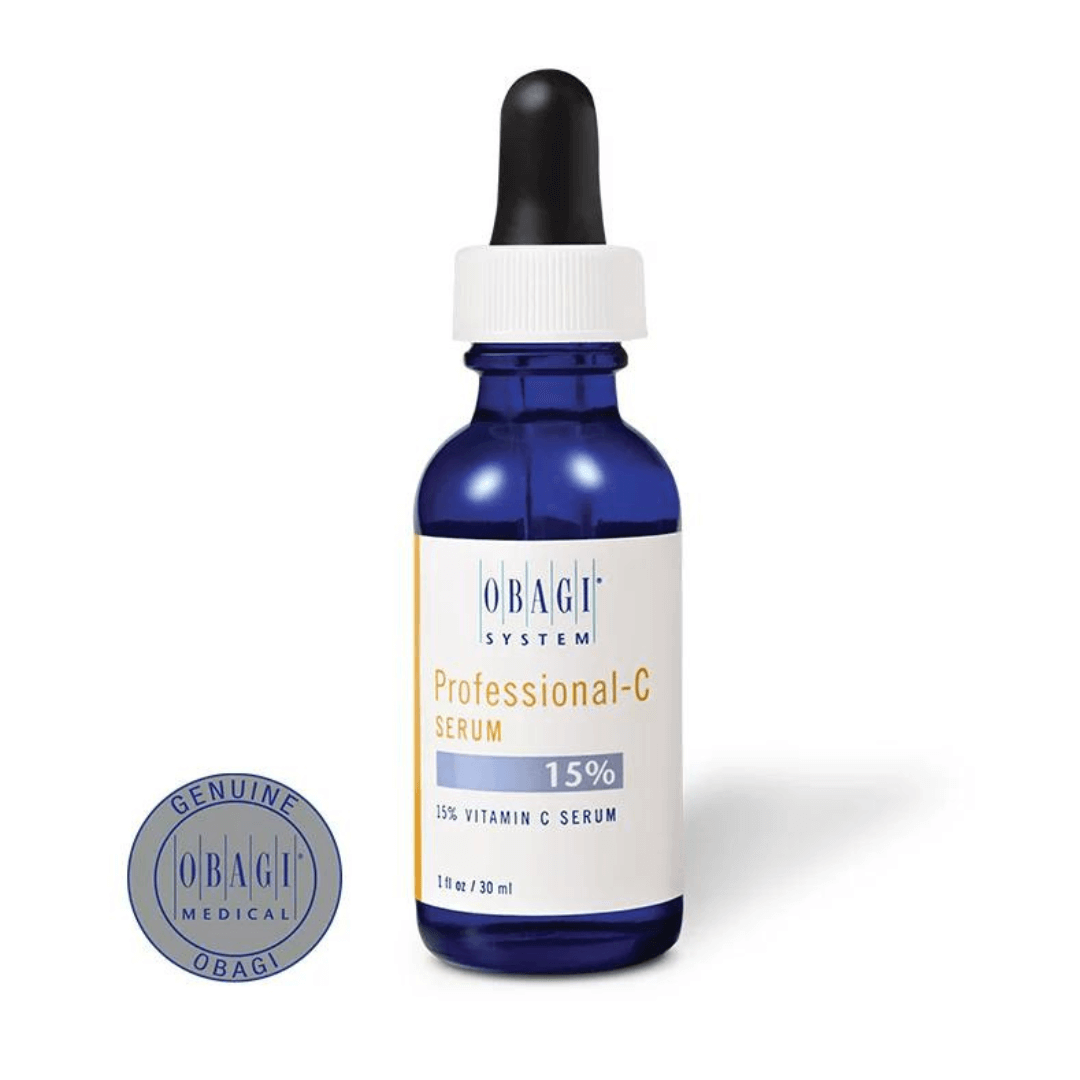 Fast delivery

You will find the shipping time for each product.

Attention to the customer

We respond quickly to your inquiries and usually respond within the hour, even outside of business hours.

Customer reviews

Our goal is to QUICKLY and EFFICIENTLY help you find the most suitable skin care products for you.